The Steinway Experience
With
Pervez Mody
Pervez Mody is a maestro concert pianist known for his intense and thrilling performances delivering a rainbow of emotions to his audience. Born in Mumbai and now lives in Germany. Pervez is a highly decorated pianist with numerous prizes, distinctions, and honors to his name. Chief among them was the scholarship he was awarded to study at the prestigious and exclusive Tchaikovsky Conservatory in Moscow with Professor Margarita Fyodorova, who had predicted his inevitable success very early on.
He has taken up invitations to be a jury member at the "International Piano Competition" in Huesca (Spain) and has conducted master classes in Germany, Argentina, and India. Besides almost completing the recordings of Alexander Scriabin, Pervez is also planning to perform the complete piano works of Ludwig van Beethoven in the great concert cycle in Berlin soon. Pervez is still active in the piano-violin chamber music format "Duo Appassionata".
An exemplary musician and performing artiste, Pervez has been a Steinway Artist since 2012 frequently touring the world as a concert pianist to Europe, Asia, North, and South America.
Get to know more about Pervez Mody as part of The Steinway Experience.

How Did You Get Introduced To Steinway Pianos?
Well, the earliest memory I have of a Steinway Piano is when I was about 11 or 12 years old (could have been earlier as I started playing smaller shows as early as when I was 6 years old). If I remember correctly, it was at the A.I.R (All India Radio) studios and quite a thrilling experience, even today I can still remember how gorgeous and powerful that Steinway Piano sounded.
Tell Us About Your Piano.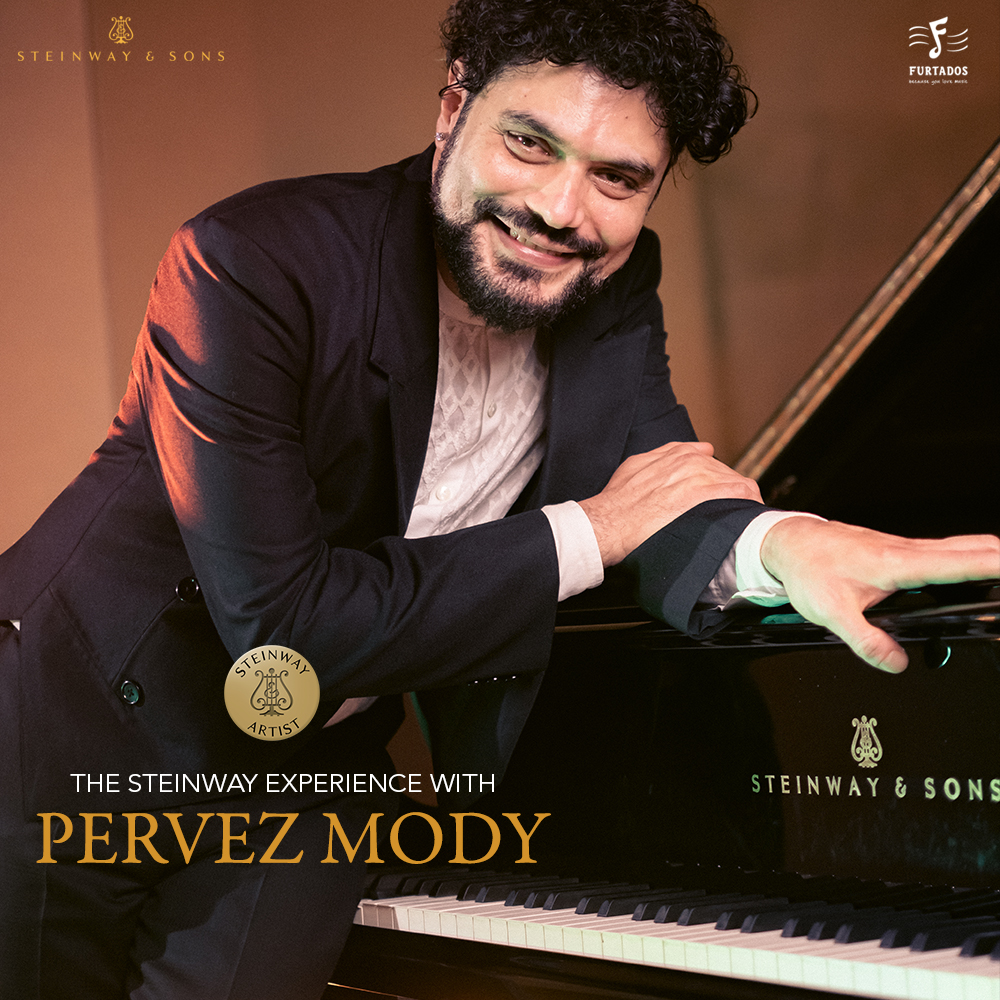 My piano is an old antique Steinway piano. It was love at first sight! As soon as I had played the first few bars I fell madly in love with the instrument. The piano was owned by a lovely elderly couple that lived at least a 2 hours drive away from where I lived. Whilst traveling to this place I witnessed a double rainbow, which is a very rare natural phenomenon. Considering this to be a very good omen, I was already in a very optimistic state of mind before checking out the piano. But even so, after I played it and I was totally blown away! There are also some very important reasons I chose this instrument, for one, it has an extremely sonorous and bell-like tone. It has a lightness of touch and is extremely sensitive to the slightest change in touch. And, of course not to mention, it is covered in rosewood and has ivory keys which enhance its already magnificent aura. it is supposed to be from the year 1911 and was located in Berlin for the longest time according to its previous owner.
Do You Have A Memorable Moment From A Performance On A Steinway?
There are so many memorable moments from concerts and private performances that it would be unfair to point out just one. However, one that stands out was the time I got a chance to play on the world-famous Konstantin Igumnov's American Steinway grand piano at the Moscow Conservatoire. At the time I was practicing hard and playing the Schumann Carnaval. Normally we were not allowed to play on this instrument but having begged my teacher for probably the 100th time she finally gave in telling me that it would be an exception. After I finished the last bars of the Carnaval I turned to my teacher who for the first time applauded after I finished and said to me "you played wonderfully". The sound of that piano is still deeply etched in my memory.
Get to know more about Pervez as part of The Steinway Experience in the recently published Blog Post on www.furtadosonline.com