DATE: June 19 and 20, 2022
VENUE: NCPA and Prithvi Theatre
TIME: 8:00 PM Onwards
It all started 40 years ago in France! Make Music Day originated in France in 1982 calling it Fete De La Music (translating to "Festival of Music" and "Make Music"). Three decades later, this festival is celebrated worldwide on 21st June. This day is all about bringing not only artists from all over the world but also music lovers to come together in their respective cities and Make Music!
This year Make Music celebrates its 40th anniversary by conducting concerts featuring the music of French composers and songwriters.
After two years of staying at home, we could come together to create art and listen to artists perform live. Thus, in 2022 to celebrate June 21st, Furtados Music decided to host an event for Make Music Day, supporting the NAMM Foundation's initiative. At NCPA and Prithvi Theatre in Mumbai, several virtuoso music artists performed Songs From Around the World for an audience of music lovers.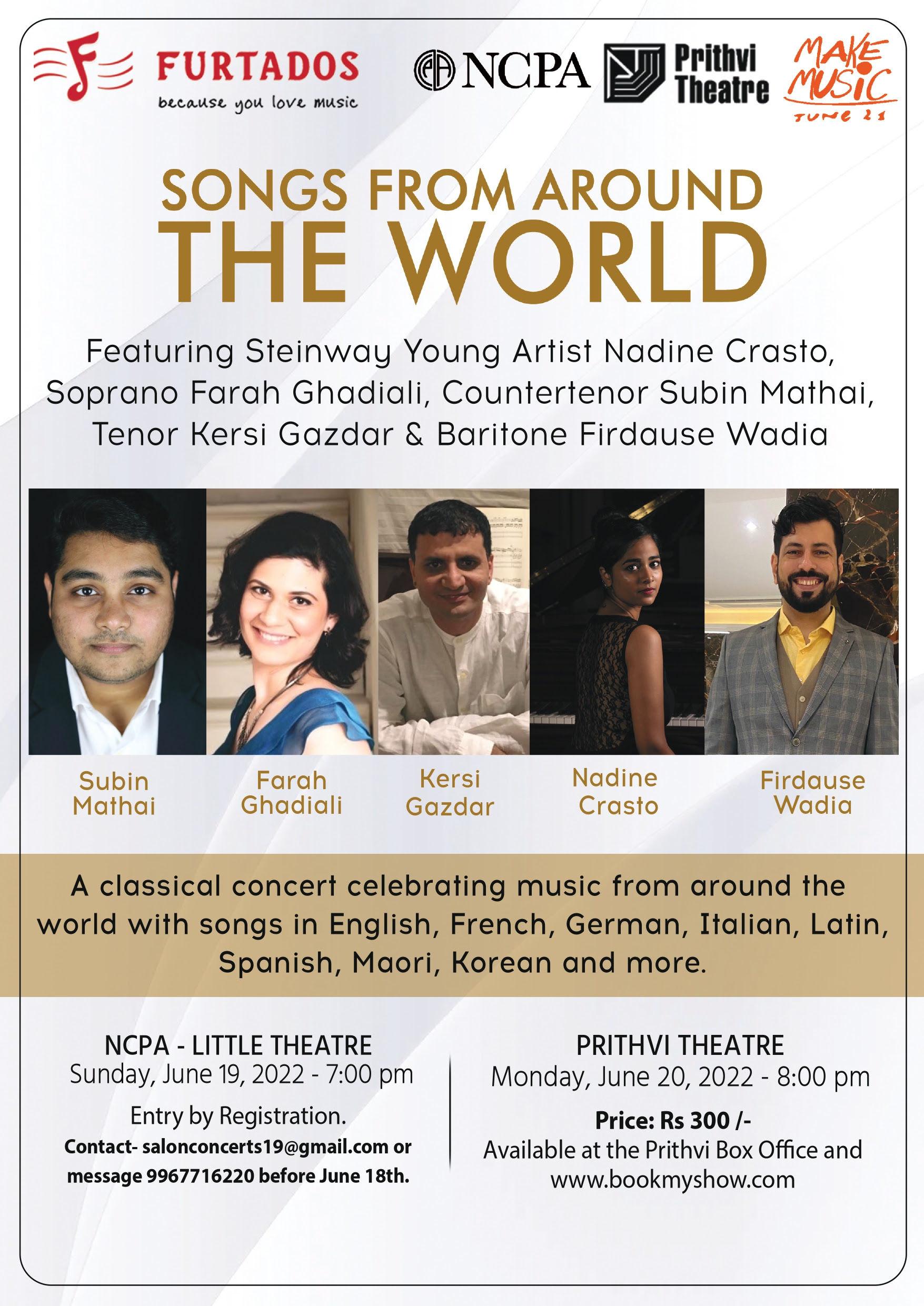 The concert performers included Steinway Young Artist - Nadine Crasto, Soprano - Farah Ghadiali, Countertenor - Subin Mathai, Tenor - Kersi Gazdar, and Baritone - Firdause Wadia, who played some beautiful tunes from around the world. These artists have won various accolades for their work and performed for several artists from around the world. Classical songs from French, English, German, Italian, Latin, Spanish, Maori, Korean, and many more languages along with composers like Beethoven, Purcell, Schubert, Debussy, Rachmaninoff, and others were heard.
Young Steinway artist - Nadine Crasto, who has been playing on a Steinway for many years, performed soulfully on the grand Steinway Model S piano, which added a sense of richness and authenticity to the tunes, with Countertenor - Subin Mathai and Soprano - Farah Ghadiali for the French lineups during the celebrations, giving a tribute to France and their Fete. The highlight of the event was when in the end, all these artists came together to perform the classic French song, La Vie En Rose by Edith Piaf to end the day on a beautiful note!
The large audience thoroughly enjoyed the performances and praised the artists for the blissful tunes they performed. All of Mumbai's music lovers assembled at the two places to be entranced by some of the best artists from India! The event was live-streamed along with the other 40 countries celebrating Make Music Day!
Steinway Young Artist - Nadine Crasto, Suprano - Farah Ghadiali, Countertenor - Subin Mathai, Tenor - Kersi Gazdar, and Baritone - Firoze Wadia, performing the famous French song La Vie En Rose
Make Music Day performers with Furtados Director - Joesph Gomes